Coconut Shell Charcoal Briquettes Manufacturers
Our premium charcoal briquettes process and composition result in a long burn time, low ash, and strong heat
About Us
We are a manufacturer of coconut shell charcoal briquettes in Indonesia. Our natural charcoal briquettes provide high heat, a long burn time, and low ash. These are all features that make the best briquettes for smoking and Shisha or hookah.
Through a strict control system, we offer delivery to a wide variety of countries with high quality and efficiency. We value every consumer who has trusted us. Our mission is to strive to supply products that meet customer expectations. We use sustainable business practices in order to ensure the satisfaction of our customers for years ahead. If you need a reliable partner, we're here for you.
What are benefits of choosing us?
First and foremost, we offer the best quality and affordable products
Long Burning Time
Our briquettes burn for a long time, produce little residuals or ash, and emit no odor.
Commitment
Keeping our clients satisfied is the best way to build a long-term business connection.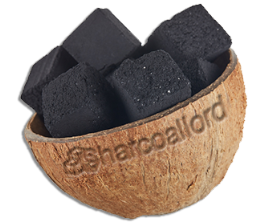 High Quality Products
Produced with superior materials by charcoal experts. It's non-toxic, without sparks or sulfur.
Customized Order
We provide complimentary design packaging for all custom projects to preserve your brand identity.
Frequently Asked Questions
We've compiled a list of the most frequently asked questions here. If you have a question that isn't on this list, then you can contact us.
How is charcoal made from coconut shells?
We have a special, eco-friendly charcoal that is safe to use and also completely natural. To obtain high-quality charcoal, coconut shells must be clean and completely dry. After the moisture content is reduced to a minimum, the pyrolysis process continues. Then pulverizing allows for obtaining different shapes and sizes.
Please check out our blog to learn more about coconut charcoal shells and other interesting topics.
How long do charcoal briquettes burn and last?
Great coconut charcoal briquettes have a very long life! They can be used for many types of charcoal devices. Our coconut charcoal can burn for up to two hours.
How do coconut shell charcoal briquettes differ from other types?
The coconut shell charcoal we make is safe to use and completely natural. It has a light ash content, which makes it very useful for shisha, grilling, and making the best charcoal briquettes for smoking. When you buy coal briquettes from us, you'll get premium charcoal briquettes. We are a coconut charcoal briquette manufacturer based in Jepara, Indonesia. In addition to restaurants, coffee shops, bars, and hotels, we also offer wholesale quantities of our products.
How can I get charcoal from a coconut shell?
We distribute charcoal briquettes in a variety of shapes and ship them to clients in a variety of locations throughout the world. A few of the countries and territories covered include those in the Middle East, Saudi Arabia, United States, Germany, Russia, and United Kingdom.
When you buy coconut charcoal from us, you will get an authentic Indonesian style of charcoal briquette. It is very hard, with a beautiful white ash. Our charcoal briquettes are made from coconut shells, so they are 100% natural.
How much do you produce every day?
We produce between 5 and 6 tons each day on average. This capacity is also affected by the quantity of orders that we are currently working on.
Can we obtain samples?
Yes. To ensure the quality of the product, we offer free samples of coconut charcoal briquettes for hookah and shisha. The buyer must cover the cost of shipping. You can pay the shipping costs via PayPal or a bank transfer. Kindly inform us of your destination address.
Accept custom packaging design?
Yes. You can specify the size and shape of the item in accordance with your brand's specifications. Additionally, you can utilize the packaging associated with your brand.
Why should you buy coconut charcoal briquettes from us?
We make something called "coconut charcoal briquettes" for shisha/hookah and grilling. It's great because of its low ash content and is eco-friendly! Plus, coconut shell charcoal burns hotter for a longer length of time!
We have been in business since 2012, which is enough time for a business to have the experience needed to make high-quality products at a reasonable price. More information about our company's history can be found here.
How do I place an order?
You can bulk order coconut charcoal briquettes via Whatsapp or email. We are also serving other clients. As the line moves forward, we'll make adjustments to each order.
How can I be guaranteed of quality?
We hope you will be able to visit our factory in order to guarantee that you will receive the product you need. By reviewing our capabilities and production process, we believe that we will be able to fulfill your needs. In our factory, you will find all the products you have seen on this website.
We know that each of our clients has different needs and wants. As a team since 2012, it has become part of our culture to provide our clients with the best products and services. Therefore, our commitment is to provide our clients with excellent support and service.
If you do not see something that suits your needs in our product catalogue, please do not hesitate to contact us so that we may work together in order to produce what you require.
Our Products
Our premium coconut briquettes are available in a variety of shapes, including hexagonal, cube, cylindrical, and other shapes suitable for Shisha or hookah. If you are looking for the best charcoal briquettes, we are here to fulfill your needs.
| | Standard | Premium |
| --- | --- | --- |
| Ash Content | 3 - 5% | 2.5 - 3% |
| Fix Carbon | 75 - 80% | 75 - 80% |
| Moisture | 7 - 8% | 5 - 7% |
| Volatile Matter | 15 - 16% | 14.5% |
| Calorific Value | 7500 Kcal | 7500 Kcal |
| Burning Time | ± 2 Hours | ± 2 Hours |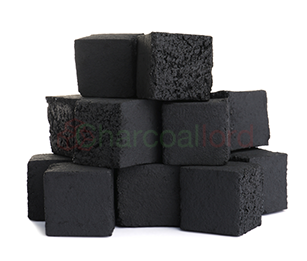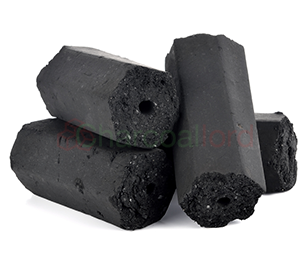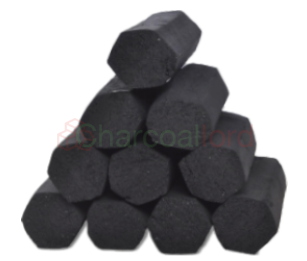 Looking for natural coconut charcoal briquettes?
Get the best price for wholesale. Pick up the phone and call us now!